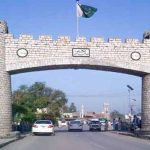 RAWALPINDI: The Inter-Services Public Relations (ISPR) on Monday refuted Indian army claims that Pakistani soldiers killed two members of an Indian army patrol on the Line of Control (LoC) and mutilated their bodies.
"Pakistan Army did not commit any ceasefire violation on the LoC or a BAT (Border Action Team) action in Buttal sector as alleged by India," said the ISPR statement.
"Indian blame of mutilating Indian soldiers' bodies are also false," added the ISPR statement.
"Pakistan Army is a highly professional force and shall never disrespect a soldier even Indian," the ISPR statement said, in response to the allegations.
The Indian army claimed that Pakistani forces fired rockets and mortars at two Indian posts along the LoC.
"In a unsoldierly act by the Pakistan Army the bodies of two of our soldiers in the patrol were mutilated," the Indian army claimed in a statement, adding that the "despicable act will be appropriately responded".
The claim from the Indian side has come via a tweet from a verified account of the Indian army's Additional Directorate General of Public Information.
The armies have been facing off for decades across the LoC, an old ceasefire line through the region that both countries claim in full but rule in part.