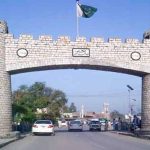 KARACHI: The Pakistan Navy on Friday stopped an Indian nuclear-powered submarine from entering into Pakistani waters which exposed India's heinous designs and war craze.
According to Pakistan Navy Spokesman, the naval fleets successfully detected a submarine of India which had violated the sea limits. A video was also released by the navy.
Pak Navy used its extreme skills and prevented Indian submarine from covertly entering into Pakistani waters, the spokesperson said. Pakistan Navy chased after and later warned the submarine, forcing it to retreat.
Officials said the submarine was deployed within Pakistani waters to secretly sneak into Pakistani limits; however, it was successfully traced and expelled.
The action demonstrates Pakistan Navy's vigilance and operational preparedness, PN spokesman said.
The spokesperson further stated that Pakistan was capable of giving a fitting response to any sort of aggression.
Relations between Pakistan and India have been strained for several months, while cross-frontier shelling has intensified in recent weeks leading to deaths of civilians and soldiers stationed along the Line of Control (LoC) and Working Boundary.