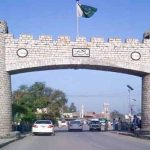 PITTSBURGH: Pakistan's Ambassador to the United States Aizaz Ahmad Chaudhry has said that Pakistan and the United States need to work together to achieve the common objectives of peace and stability in the region, especially in Afghanistan.
This he stated during a public talk at the Carnegie Mellon University in Pittsburgh.
He said that Pakistan's successes both in security and economic domains must be recognized and appreciated.
The Ambassador said the people of Pakistan expect the relationship to be based on mutual respect and mutual trust.
Earlier, addressing at the World Affairs Council, the Ambassador highlighted the achievements and sacrifices of Pakistan in the fight against terrorism.
Referring to the deteriorating security situation in Afghanistan, the Ambassador expressed the concern that the instability in Afghanistan could undermine the peace and stability of the region.
He highlighted the role that effective border management can play in interdicting the cross border movement of terrorists.
He also urged the early repatriation of Afghan refugees as increasingly Taliban and other militants are morphing into the refugee camps.