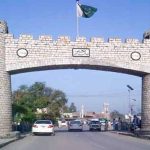 MARY: Prime Minister Nawaz Sharif, in his yesterday's address emphatically stated that Pakistan attaches great importance to the TAPI project. With the completion of this project, Pakistan will get 1325 MMCFD supply of natural gas which will help overcome the energy deficit.
Meanwhile, Prime Minister Nawaz Sharif, Afghan President Ashraf Ghani, Turkmenistan President Gurbanguly Berdimohamedow and Indian Vice President Muhammad Hamid Ansari held a meeting at Mary, Turkmenistan, today.
They discussed the 10 billion dollars TAPI gas pipeline project which is expected to be completed by 2018.
The leaders emphasized the need for enhanced connectivity for peace and stability in the region.