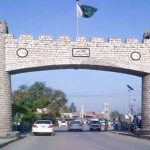 ISLAMABAD: Pakistan has urged all parties to desist from resorting to actions that are inconsistent with the UN Charter over Syrian chemical weapons attack in Douma.
Foreign Office Spokesperson Dr Muhammad Faisal in a statement said Pakistan condemned the use of chemical weapons anywhere by anyone.
He called for urgent and transparent investigations by the Organisation for the Prohibition of Chemical Weapons to ascertain facts.
The Foreign Office said Islamabad expresses support for the people of Syria who have suffered as a result of the ongoing crisis in that country. "We hope that all parties will work to find an urgent solution to end the sufferings of the Syrian people."
U.S., and its allies pounded Syria with air strikes early on Saturday in response to a poison gas attack that killed dozens of people last week, in the biggest intervention by Western powers against Syrian President Bashar al-Assad.
U.S. President Donald Trump announced the military action from the White House late on Friday. As he spoke, explosions rocked Damascus. Trump said he was prepared to sustain the response until Assad's government stopped its use of chemical weapons.
British Prime Minister Theresa May and French President Emmanuel Macron said the UK and France had joined in the attack.