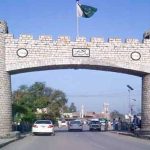 SHEIKHUPURA: Minister for Defense Production Rana Tanveer Hussain has said that Pakistan has developed such advanced nuclear and missile technology that could target every city of India.
The minister termed the recent statement of the Indian army chief as irresponsible and threatening and said that this statement would be taken seriously.
Tanveer also termed the United States and its defense equipment as unreliable and added that Pakistan did a lot for the US, but it too was not a trustworthy partner.
He went on to say that the defense items purchased from the US failed to deliver in times of need.