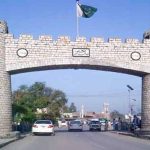 KABUL: The second round of Pakistan-China-Afghanistan trilateral foreign ministers' talks will be held today (Saturday) in Kabul.
Foreign Minister Shah Mehmood Qureshi will represent Pakistan. He will fly to Kabul on a one-day visit and attend the talks pertaining to Afghan reconciliation process.
Chinese Foreign Minister Wang Yi and Afghan Foreign Minister Salahuddin Rabbani will lead their respective delegation.
The purpose of the trilateral talks is to find a permanent solution to sustainable peace in Afghanistan. Shah Mehmood Qureshi is also scheduled to meet Afghan president Ashraf Ghani.
The first round of the talks was held in Beijing last year on December 26.
Prime Minister Imran Khan has reiterated Pakistan's abiding interest in achieving peace and reconciliation in Afghanistan through political settlement.
His resolve came in a meeting with US Secretary of State's Special Representative for Afghanistan Reconciliation Ambassador Zalmay Khalilzad last week.
Recalling his long personal commitment to the cause of peace in the region, the Prime Minister welcomed President Trump's letter and the US assurance to work with Pakistan on this shared objective.