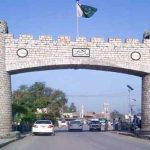 ISLAMABAD: Foreign Minister Bilawal Bhutto Saturday highlighted the importance of peace and stability in Afghanistan for the socio-economic development and prosperity of the region.
Speaking at a joint press conference with Chinese Foreign Minister Qin Gang here , Bilawal emphasized that Pakistan was committed to working with China and other stakeholders to achieve this goal.
During the talks, both countries agreed that peace and stability in Afghanistan was crucial for socio-economic development, connectivity, and prosperity in the region. They expressed their determination to work together with all stakeholders to make Afghanistan a peaceful, stable, united, and prosperous country. The two countries stressed that the stability of Afghanistan was key to regional peace and development.
Bilawal also praised China's principled stance on Indian-occupied Kashmir and expressed Pakistan's firm support for China on all its core issues, including the One-China policy, Taiwan, Tibet, Xinjiang, Hong Kong, and the South China Sea. He emphasized the strength of the Pak-China strategic partnership and how there was absolute unity between the two countries on this front.
The foreign minister also expressed Pakistan's commitment to further strengthen relations with China and take them into the new era. Bilawal noted that a recent manifestation of the Pak-China friendship was the prompt Chinese support and assistance in evacuating Pakistani nationals from Sudan.
China-Pakistan Economic Corridor (CPEC) also came up in the discussions, with the foreign minister highlighting its strategic significance for both countries. He stated that Islamabad was fully committed to timely completion of the corridor project.
Speaking on the occasion, Chinese Foreign Minister Qin Gang invited Foreign Minister Bilawal Bhutto to visit China, hoping that he would do so soon. Qin Gang thanked Pakistan for its support on important issues and emphasized the eternal friendship between the two countries. He expressed China's appreciation for Pakistan's services in the fight against terrorism.
Both sides expressed satisfaction with the progress made on CPEC and noted that the Chinese market was available for Pakistani products. The Chinese foreign minister also spoke about the tripartite talks and expressed his commitment to create a consensus on the issue of Afghanistan among countries in the region. He added that Pakistan and China were ready to help in the reconstruction of Afghanistan and hoped that Afghanistan would take the terror concerns of its neighbors seriously.
In conclusion, the joint press conference highlighted the strong relationship between Pakistan and China and their shared commitment to regional peace and development.