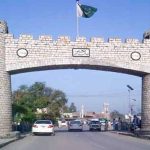 ISLAMABAD: The Pakistan Day parade, scheduled to be held today, has been postponed due to inclement weather, the President's House said Thursday.
The parade will now be held on March 25.
The joint services parade was due to be held at Aiwan-e-Sadr.
Pakistan Day commemorates the passing of the Lahore Resolution on March 23, 1940, when the All-India Muslim League demanded a separate nation for the Muslims of the British Indian empire.