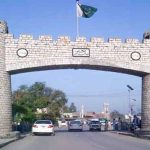 ISLAMABAD: British High Commissioner to Pakistan Thomas Drew Wednesday informed the opposition leader in National Assembly that Pakistan has not provided substantial evidence to carry out legal action against MQM chief Altaf Hussain.
"We need solid evidence from Islamabad against Altaf Hussain [in regard to inciting people to violence in Pakistan] to take a legal action against him," Drew told Leader of Opposition Syed Khursheed Shah in a meeting at the Parliament House.
Acknowledging the dossier dispatched by Islamabad, the High Commissioner said, "It does not carry enough material that can help in taking any legal action against Altaf."
Shah urged Drew to convince British authorities to act against Hussain, and said the MQM chief was "causing problems for Pakistan while sitting in London".
"We demand an immediate and stern action against him (Hussain)," Shah said.
"The MQM chief's derogatory remarks against Pakistan and anti-Pakistan slogans are totally unacceptable to each and every person here," added the leader of the opposition.
The Ministry of Interior on Tuesday had dispatched a reference against MQM's "dissociated" chief to United Kingdom government, accusing the former of inciting people to violence in Pakistan.