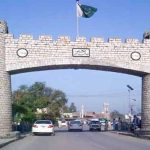 WASHINGTON: US States Department Deputy Spokesperson, Mark Toner, while briefing the newsmen in Washington on Wednesday said that Pakistan and India must work together to combat terrorism.
Terrorism is obviously a reality in both countries, and Pakistan and India need to work together in order to effectively confront it. And that's something we've long encouraged, Mark Toner said.
Answering a question he said that Pakistan needs to do all it can to confront all terrorists operating on its soil. We've seen it make progress; we want to see more progress on its part.
He said that Pakistan has taken and is taking steps to counter terrorist violence, and certainly focusing on those groups that threaten Pakistan's stability. They have shut down some of terrorist safe havens inside Pakistan's borders. They've restored government control to parts of Pakistan that were used as terrorist safe havens for years. And these are important steps that have continued – or contributed, rather, to security interests in the region. And they've come at a cost of Pakistani lives lost.
Mark Toner further said that we've been very clear with the highest levels of the Government of Pakistan that they must target all militant groups, and that includes those that target Pakistan's neighbors, and they must also close all safe havens.