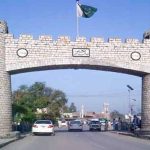 KARACHI: Pakistan is likely to get an unspecified number of Moderna's mRNA COVID-19 vaccine doses through COVAX in the coming months, officials in the National Health Services, Regulations and Coordination (NHS,R&C) said on Thursday.
Talking to The News, officials in the National Health Services confirmed that talks were underway with COVAX for acquiring Moderna's mRNA Covid-19 vaccine, codenamed mRNA 1273, but added that so far they have no confirmation as to when and how much doses of the double dose vaccine could be provided to Pakistan.
Pakistan has so far received 100,600 doses of Pfizer-BioNTech's mRNA vaccine through COVAX, to inoculate immunosuppressant people, while an agreement has also been reached between government and Pfizer-BioNTech for supply of 13 million more doses of mRNA vaccine by end of the current year. Officials said if Moderna's mRNA vaccine is made available through COVAX, it would be a valuable addition to the existing Chinese, and European vaccines to inoculate the adult population. They however clarified that a huge number of doses are not expected to be supplied by COVAX. To a query, they clarified that provision of Moderna's mRNA vaccine has nothing to do with telephonic conversation with Prime Minister Imran Khan and Bill Gates.