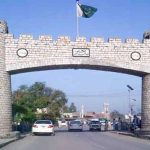 LAHORE: Pakistan is not a completely independent country, said Minister for Railway Khawaja Saaad Rafique at the inaugural ceremony of Bab-e-Pakistan monument in the city Sunday.
While addressing the event, the federal minister said the country will not prosper if institutions have clashes among them. "We will have to unite on a single national agenda."
Saad Rafique also spoke about the current political situation in the country, saying the ruling party, Pakistan Muslim League-Nawaz has been attacked in every possible way. But a politician will continue with what it is meant to do even if it is buried under the ground, he added.
According to Saad Rafique, people express their love and solidarity with PML-N at rallies now. The public does so because they cannot be fooled, he added.
This is the reason why the Nawaz Sharif sitting in Jati Umrah is more dangerous than the one who was in the Prime Minister House, the railway minister said.
The railway minister criticised the ruling party of Sindh, saying the authorities there have turned the province into a ruins.
Saad Rafique also denounced the statements made by Pakistan Tehreek-e-Insaf Chairperson Imran Khan during the joint opposition rally on Mall Road on January 17, saying the one who wants to be made the prime minister hurled cuss words.
Talking about the transport projects initiated by the ruling party, Saad Rafique said their bus service was mocked but work on a similar one has been started in Khyber Pakhtunkhwa, the province where PTI is in power.
The railway minister lauded Punjab Chief Minister Shehbaz Sharif for his work on the projects in the province, saying the latter completes a year's work in a month. No matter what happens, Shehbaz Sharif will start the train, the railway minister added.
About the Bab-e-Pakistan project, Saad Rafique said it has been completed after two years of hard work.