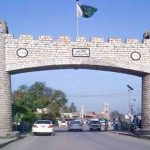 ISLAMABAD: Foreign Office has strongly condemned the unprovoked ceasefire violations by the Indian occupation forces in Chirikot Sector on Wednesday, martyring two civilians and injuring two others including a woman.
The Director General for South Asia and SAARC Dr Mohammad Faisal, summoned the Indian Deputy High Commissioner to Foreign Office on Wednesday and a strong protest was lodged against Indian ceasefire violations.
He said Indian occupation forces have increasingly targeted civilian areas on the Pakistani side, resulting in the shahadats of 13 civilians, including 6 women, and injuries to 39 others during last two weeks.
He said the deliberate targeting of civilians is indeed deplorable and contrary to human dignity and international human rights and humanitarian laws. He said that the ceasefire violations by India are a threat to regional peace and security and may lead to a strategic miscalculation.
The Director General urged the Indian side to respect the 2003 Ceasefire arrangement; investigate this and other incidents of ceasefire violations; instruct the Indian forces to respect the ceasefire, in letter and in spirit and maintain peace on the LoC.
He urged that the Indian side to permit UNMOGIP to play its mandated role as per the UN Security Council resolutions.