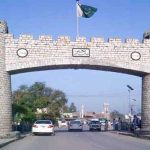 WASHINGTON: The US government has resettled a Guantanamo Bay detainee in Belize after the former al-Qaeda courier finished serving his sentence, the BBC reported on Friday. Pakistani Majid Khan, 42, was held in the high-security detention facility in Cuba for over 15 years.
Khan was sentenced in 2021 to 10 years, with credit for the years he spent cooperating with US personnel. His resettlement marks the first time US President Joe Biden's administration has transferred a detainee.
"I have been given a second chance in life and I intend to make the most of it," Khan said in a statement. "I deeply regret the things that I did many years ago, and I have taken responsibility and tried to make up for them. "The world has changed a lot in twenty years, and I have changed a lot as well."
According to BBC report, Khan was one of the better known prisoners at the Guantanamo Bay facility – a US military prison that once housed hundreds of suspected militants captured following the 9/11 attacks.
That was in part due to his testimony about being tortured while held in secret in CIA custody overseas from 2003, following his capture in Pakistan, to 2006.
In a testimony during a hearing at the Guantanamo Bay facility in 2021, Khan alleged he was subjected to beatings and waterboarding and was stripped nude and forced to undergo procedures including enemas during his time at the overseas CIA site.
"The more I cooperated, the more I was tortured", he said, adding that he made up lies in order to appease interrogators.
His testimony echoed findings from a 2014 report from the US Senate on the CIA's interrogation programme, which found the agency used ineffective and brutal methods of torture to obtain intelligence.
Khan went to high school in the US state of Maryland before he left for his native country and joined Al Qaeda following 9/11. He pleaded guilty to terrorism-related charges in 2012.