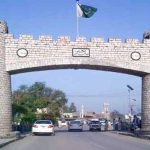 Kashmir Solidarity Day is being observed today countrywide to express solidarity with the people of Jammu and Kashmir who are fighting for freedom and for their inalienable right to self-determination under UN resolutions.
A public holiday has been announced in Pakistan on this day, which will be commemorated throughout the world to show support for the Kashmiri people who, every day, fight the aggression and violence perpetrated by the occupying Indian army and security forces.
A number of rallies, seminars and public meetings are being organised in Karachi, Lahore, Islamabad and other cities to show solidarity with the Kashmiri people. Human chains will be formed at Kohala, Mangla, Holar and Azad Pattan points linking Pakistan and Azad Kashmir.
People belonging to different strata of society will also form a human chain at Islamabad's D-Chowk to express solidarity with their oppressed Kashmiri brethren. A one minute silence will be observed at 10 am to pay homage to the martyrs of the liberation struggle of occupied Kashmir.
In Muzaffarabad, the main event of the day will be the special session of Azad Jammu and Kashmir Legislative Assembly which will be addressed by President of Pakistan Dr Arif Alvi.
In a message on Kashmir Solidarity Day, Punjab Chief Minister Sardar Usman Buzdar said: "We salute the unshaken commitment of Kashmiri people for the right of self-determination."
"The brave people of occupied Kashmir had rekindled the freedom movement with their blood and the Pakistani nation is standing with their Kashmiri brethren," he added.
Earlier on Monday, Foreign Minister Shah Mehmood Qureshi said humanity was bleeding in occupied Kashmir since not a single action was taken against the people involved in the state-sponsored murders, torture, and rape.