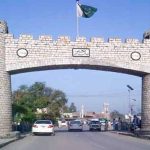 ISLAMABAD: Pakistan has offered Bahrain to participate in China-Pakistan Economic Corridor (CPEC) and invest in hydropower plants and Thar coal power project in a joint ministerial session.
The meeting was chaired by Adviser to the Prime Minister on Foreign Affairs Sartaj Aziz and Bahrain's Minister of Foreign Affairs Khalid bin Ahmed Al Khalifa Bahraini.
Two contracts have been signed in the session under which both countries will cooperate with each other in 11 sectors including defense.
Afterwards, Sartaj Aziz said in a press conference that CPEC will take this region, including Gwadar, to new heights of prosperity and increase investment opportunities in Pakistan. "Bahrain can also benefit from this mega project," he added.
Sartaj Aziz further told that both countries have agreed to set up a business council.
Khalid bin Ahmed Al Khalifa also admitted the importance of CPEC and said this project will have impact on whole region. He also ensured to play supporting role in getting the Kashmir issue resolved.