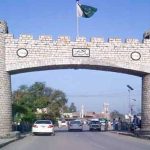 ISLAMABAD: Foreign Secretary Tehmina Janjua says there are no safe havens of terrorist groups in Pakistan and the country has cleansed its soil of terrorists.
Tehmina Janjua was briefing a meeting of Senate's Committee on Foreign Affairs in Islamabad on Tuesday.
The Foreign Secretary said terrorist safe havens are in Afghanistan where over forty five percent area of the country is without any governance. She said the United States has been apprised of the fact that Indian intelligence agency RAW is using Afghan soil for terrorist activities in Pakistan. She said Indian hegemony in the region is unacceptable.
The Foreign Secretary said Pakistan is taking effective measures for border management with Afghanistan. She said the United States is ready to mediate between Pakistan and India over Kashmir issue.
Referring to Army Chief's recent visit to Afghanistan, Tehmina Janjua said it was a significant visit and the meetings with Afghan civilian leadership remained positive.
About anti Pakistan posters in London, she briefed the Senate Committee that the posters have been removed after Pakistan's protest.