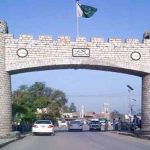 ISLAMABAD: Minister of State for Interior Shehryar Afridi on Tuesday said that the government is committed to establish law and order in every nook and corner of the country to provide peaceful atmosphere to the people.
Talking to media persons in Islamabad, the minister pointed out that Pakistan has offered unprecedented sacrifices in the war against terror in men and material curbing the menace of terrorism from its soil.
He said Pakistan is a sovereign country and it needs no certificate from anyone to decide matters in its own national interest.
Shehryar Afridi said international cricket and Pakistan Super League (PSL) will be brought back to home to promote sports activities in the country.
The minister further said drafting for PSL's next edition in Islamabad is in itself a great success of the government to send a message of peace to the world nations and present a soft image of Pakistan.