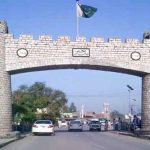 CHAMAN: Pakistan on Monday reopened the Bab-e-Dosti (friendship gate) on the Pak-Afghan border at Chaman, more than a week after an armed men from the Afghan side opened fire on Pakistani security forces at Friendship Gate, resulting in the martyrdom of one soldier and injuries to two others on November 13.
The decision to open the border was made during a meeting between Pakistani and Afghan officials, Chaman Deputy Commissioner Abdul Hameed Zehri told the media on other day.
According to Chaman Deputy Commissioner Hameed Zahri, the Bab-e-Dosti was closed for all types of traffic after the firing of an attacker from the side of Afghanistan on November 13 last.
The border issues were reviewed in the seven-day negotiations, and important decisions were also taken to prevent such incidents in the future.
The civil and military authorities of both the countries participated in the talks.
The Bab-e-Dosti at Chaman will remain open for pedestrian traffic from 8am to 5pm and for border trade from 8am to 8pm.