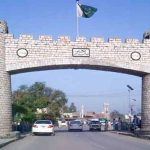 ISLAMABAD: Pakistan has reported 1,918 new coronavirus infections during the last 24-hour, raising the nationwide tally to 261,917, said the National Command and Operation Centre (NCOC).
At least 47 people lost their lives due to Covid-19 in the 24-hour period as Pakistan's death toll hit 5,522, while at least 198,509 patients have recovered.
A meeting of the National Command and Operation Centre (NCOC), chaired by Federal Minister for Planning and Development Asad Umar and NCOC National Coordinator Lt Gen Hamoodul Zaman, will be held today in Karachi.
Sindh Chief Minister Murad Ali Shah will attend the meeting, and representatives of other provinces will attend via video link.
All provinces will be briefed on the implementation of standard operating procedures (SOPs) and management of cattle markets for Eidul Azha.
Decisions about the smart lockdown and hotspot areas across the country will also be reviewed.
Meanwhile, Special Assistant to the Prime Minister on overseas Pakistanis Syed Zulfiqar Bukhari said 2021 will be the year of tourism and all avenues of recreation would reopen by reviewing Covid-19 developments after Eidul Azha.
The special assistant maintained that tourist destinations will remain closed during Eidul Azha holidays.
Researchers in Australia have devised a test that can determine novel coronavirus infection in about 20 minutes using blood samples in what they say is a world-first breakthrough.
The researchers at Monash University said their test can determine if someone is currently infected and if they have been infected in the past.
"Short-term applications include rapid case identification and contact tracing to limit viral spread, while population screening to determine the extent of viral infection across communities is a longer-term need," the researchers said in a paper published in the journal ACS Sensors on Friday.