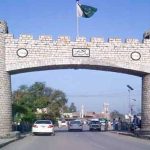 ISLAMABAD: Pakistan and the United Kingdom have committed themselves to further strengthening their relationship through increased trade and investment and cultural cooperation.
The pledge came during talks between Advisor on Foreign Affairs Sartaj Aziz and visiting UK Foreign Secretary Boris Johnson in Islamabad today.
Later, at the joint press stakeout, the Advisor pointed out that the two countries have been cooperating under the framework of enhanced strategic dialogue since 2011. The two sides had already agreed to three new road-maps on trade and investment, culture and education and security.
Sartaj Aziz said the two countries have also been discussing a multi-year development cooperation framework.
He appreciated the assistance and support of the United Kingdom to Pakistan in key areas specifically in education and health sectors.
He said Prime Minister Nawaz Sharif has extended an invitation to his British counterpart to visit Pakistan next year.
The British Foreign Secretary said his country was looking forward to enhanced strategic partnership especially in areas of education, security, trade and culture.
He said it is important for the two countries to work together for security and stability of the entire region.
Mr. Boris Johnson said there was vast potential to increase the bilateral trade to the mutual benefit of the two countries.
Replying to a question, he said the United Kingdom believes Pakistan and India should find a lasting solution to the Kashmir dispute taking into account aspirations of the Kashmiri people.
He urged the two countries to maintain a positive dialogue.
The British Foreign Secretary expressed concern over recent developments on the Line of Control and called for restraints.
Mr. Sartaj Aziz told a questioner that Pakistan side briefed the British delegation about increasing tension on the Line of Control. Pakistan emphasized the need for dialogue with India otherwise these issues would become more serious.
Meanwhile, British Foreign Secretary Boris Johnson also called on Prime Minister Nawaz Sharif in Islamabad on Thursday and discussed regional and international issues.
They also discussed Pak-Britain bilateral relations.