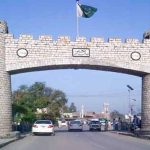 ISLAMABAD: US Chargé d'Affaires Paul Jones held a meeting with Foreign Minister Shah Mahmood Qureshi in Islamabad on Thursday.
According to details, regional security situation and bilateral relations between the two countries were discussed during the meeting.
The two sides agreed to further strengthen bilateral relations and work together to achieve the common objectives in the region.