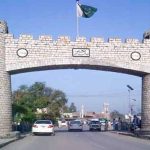 RAWALPINDI: Director General (DG) Inter-Services Public Relations (ISPR) Major General Asif Ghafoor on Wednesday warned of regional destability followed by Indian plans as it "planted a new sapling of a new conflict" in occupied Kashmir.
Pakistan Army's Spokesperson, at the start of the presser, emphasised on the geographic significance of Pakistan as "global power contestation center" where global players are involved for their economic interests.
He added that on the eastern border of Pakistan, India, with a population of more than 1.25 billion people, has endangered peace and security of the entire region.
He outlined that China and India have economical cooperation despite of disputes on certain issues.
Speaking about the western border of Pakistan, he stated that Afghanistan has been a war-torn country for the last 40 years, where nothing else expect martyrdoms and casualties, while Pakistan has been trying to facilitate peace process in the region. He said interests of major world powers are involved in Afghanistan.
"In Pakistan's southwest, Iran is facing some problems due to the situation in the Middle East …but Pakistan has brotherly relations with Iran," he said, adding that Iran has a huge role for regional peace.
Regarding the U.S. and Taliban peace deal in Afghanistan, he said if peace were achieved in Afghanistan, Pakistan's 200,000 troops would get free or the number of troops deployed at the Afghan border would be reduced substantially.
Maj Gen Ghafoor said that India probably thinks of designs to counter this relief for Pakistan as "a possible Indian strategy to keep Pakistan's attention diverted."
"India thinks that it should take action against us that would weaken us. We want to tell India that wars are not only fought with weapons and economy but with patriotism."
"India has used indirect strategy to destablise Pakistan and Indian spy Kulbhushan Jadhav is an example of it," he said.
"In India, the Rashtriya Swayamsevak Sangh (RSS) and Nazi ideology are in power. They endanger minorities including Muslims, Christians and Dalits," he said, while outlining about curbs on cultural and religious freedom in India.
In occupied Kashmir, he said, the "fascist" government of Indian Prime Minister Narendra Modi has "uprooted Nehru's step for the region".
In contrast, the armed forces have established peace in Pakistan and the country is also playing its role for regional peace. "We have avoided escalation," he said about recent tensions with India over disputed region of Kashmir.
"However, India is planting a sapling for a new conflict in Kashmir," he said, while highlighting atrocities in the region under Modi regime.
"Pakistan won't ask for one-sided dialogue offer to India," he stated.
He said Prime Minister Imran Khan in his first speech after resuming the office had extended an offer of dialogue to India "in response to which they sent in two warplanes and got a befitting response". "Nuclear countries have no room for war," he said.
"The Quaid-i-Azam's vision and our belief is that Kashmir is our jugular vein […] we will go to any extent for its protection."
"Recently Modi took an evil step and abrogated Article 370 of the Indian constitution. This is no longer a conflict of ideologies […] a befitting response will be given to India on any kind of false-flag operation."
"I want to give this message to Kashmiris that we stand by you and will continue to do so," he said, while regretting that the freedom movement has been presented as terrorism.
He briefed the media about the prevailing security situation of the country.
Amid escalating tensions between nuclear-armed rivals Pakistan and India over Kashmir dispute as Modi regime revoked special autonomy of occupied Kashmir on August 5, Pakistan Army's media wing took the nation into confidence.
Earlier on Tuesday, several posters and pamphlets with pictures of Maj Gen Ghafoor surfaced in occupied Kashmir.
As per reports, the posters citing the DG ISPR read that Pakistan would continue fighting for Kashmir till last solider and the last bullet.
Modi-led Hindu nationalist Indian government has paralysed the entire region with more than 10 million people since August 4, a day before abrogating articles 370 and 35A of its Constitution.
Humanitarian crisis in the valley has worsened as the stringent curfew has entered its 31th day today.
Communications' blackout, internet and mobile services' suspension, closure of TV channels and stringent curfew have brought life to a standstill with all markets closed and public transport off the roads.
More than 10,000 Kashmiris and hundreds of political leaders and workers including Syed Ali Gilani, Mirwaiz Umar Farooq and Muhammad Ashraf Sehrai continue to remain under house arrest or in jails.