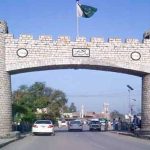 FAISALABAD: Two Pakistani students who were declared as terrorists by the Indian authorities on Monday rejected claims saying "we are present in Pakistan and never visited India."
Addressing a press conference in Faisalabad on Monday, Pakistani students Tayyab and Nadeem said that they visited Lahore during Raiwind Ijtema on November 11 and the pictures were taken while they visited Ganda Singh border.
The students further said that they do not know who shared the pictures on social media after which Indian authorities made propaganda against Pakistan.
Responding to a question, the students said that let the enemy frighten if it is frightening.
The head of the madrassah said assured the people that the Tayyab and Nadeem are their students of Jamia Taleemat-e-Islamia, Faisalabad and they haven't even been to India.
He said that the students of their institution do not engage in any political or religious activism. They are not a part of any organisation.
The presence of Pakistani students in Faisalabad has flopped Indian propaganda of projecting them as terrorists on Ganda Singh border.
The Research and Analysis Wing (RAW) and police officers portrayed both the students as militants and pasted their pictures on every wall of the city. The Delhi police, while issuing an advisory, further asked the people to keep a lookout for them.
The students posed near a black milestone, which reads Delhi 360 km and Ferozepur 9km, during a trip to Ganda Singh Wala border.