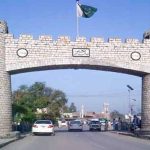 ISLAMABAD: Advisor to Prime Minister on Accountability Shahzad Akbar has said that the agreement signed with Switzerland for tracking the bank accounts of Pakistanis is a great achievement.
Addressing a news conference along with Special Assistant to the Prime Minister on Media Iftikhar Durrani in Islamabad this afternoon, he said the agreement has enabled us to take data from Switzerland and information will start arriving in next two weeks. He said the previous governments deliberately avoided signing an MoU with Switzerland in this regard.
Shahzad Akbar said former Prime Minister Nawaz Sharif spent 250 million rupees on his private visits abroad. He said that the government has handed over evidence against Nawaz Sharif to the NAB, which would file another reference against him for misusing his authority. He said that Nawaz Sharif had not revealed a flat of his wife. He said that a new reference about assets beyond known source of income would also be filed against Nawaz Sharif.
Speaking on the occasion, Iftikhar Durrani said the governmnet has decided to form an organization to alleviate poverty under the Prime Minister's 100 days programme.
He said Dr. Ashfaq Hassan will be appointd as head of the organization. He rejected reports about resignation of finance minister Asad Umar. He said that decision regarding changes in the cabinet would be taken after review of performance of the ministers.