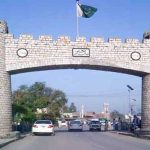 ISLAMABAD: Justice Asif Saeed Khosa on Wednesday has clarified his stance regarding the terminologies of Godfather and Sicilian mafia saying he never called anyone a Godfather or Sicilian mafia in Panmagate case.
Justice Khosa, who was a member of the bench that announced Panama deicison, asked Deputy Attorney General Amir Rehman whether he has read Panama verdict.
He said that they had nowhere mentioned the word The Godfather in the Panama Papers verdict.
He added that the reference to the Sicilian Mafia was made because of former Pakistan Muslim League (PML-N) leader Nihal Hashmi's threats to the judiciary.
Justice Khosa said that those things which have not been said by the Supreme Court should not be associated to it.
Meanwhile, Justice Dost Mohammad said that the role of Godfather was heroic but it has been taken as negative.
Godfather used to give money to the poverty-stricken people by taking it from rich people, he added.
Justice Khosa's statements came in the wake of the former Prime Minister Nawaz Sharif and Maryam Nawaz's continuous onslaught against SC judges for allegedly using terms like 'Sicilian Mafia and The Godfather' to label them.