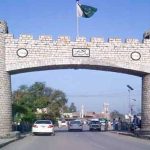 ISLAMABAD: The Parliamentary Committee meeting regarding a proposed amendment to the census ended inconclusively on Tuesday as Muttahida Qaumi Movement-Pakistan (MQM) and Pakistan Peoples Party (PPP) reservations over census results could not be addressed.
The MQM-P remained dissatisfied with briefings on the provisional census results by the Election Commission of Pakistan (ECP) and the Pakistan Bureau of Statistics (PBS).
The party's parliamentary leader, Farooq Sattar, said that his party did not accept the census results. "If we have reservations over the census, how can we accept its provisional results?" he asked.
However, Sattar informed journalists that he had proposed delimitation on the basis of the number of voters instead of the population figures.
While speaking to the media, PPP's Naveed Qamar said that his party still stood by its demand to get the Constitutional Amendment Bill approved by the Council of Common Interests (CCI) before bringing it to the assembly.
National Assembly Speaker Ayaz Sadiq, who was heading the meeting today, said, "All political parties have agreed that elections should not be delayed."
He said that the parliamentary leaders would now discuss the matter with their party heads and meet again on Wednesday at 11am after receiving directions from their leaders.
Earlier, Law Minister Zahid Hamid introduced the Constitutional Amendment Bill in the National Assembly on Nov 2 after an "agreement" among all parties during a two-day meeting of parliamentary leaders of all parties with Speaker Ayaz Sadiq.
But soon after the introduction of the bill, the PPP's parliamentary leader Syed Naveed Qamar declared the move "unconstitutional", alleging that the government had played a trick on them by telling them that the bill was being moved in the light of the CCI's decision although that was not the case.
The PML-N on Monday formed a five-member committee tasked with meeting leaders from all the political parties to remove their concerns over the census issue in order to ensure timely elections, which are due in August next year.
Meanwhile PPP's Khursheed Shah has suggested that the 2018 polls be held on the basis of the 1998 census to ensure they are not delayed because of the deadlock over the new census.