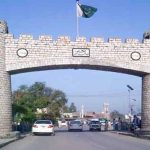 CHAMAN: Thousands of Pashtun tribesmen Saturday held protest rally against India's warmongering against Pakistan and vowed to stand by Pakistan army during any aggression by India.
The tribesmen took out protest rally from DC complex to Chaman Press Club. They were holding banners and placards inscribed with slogans against India and support of Kashmiris. They also raised slogans against India and said that Pakistan was not Myanmar.
They said that they stood by Pakistan. They also raised slogans against Indian government and Modi. They staged a sit-in and blocked Chaman highway for all sort of traffic. All the participants of the protest took oath and said that standing shoulder by shoulder with Pakistan army and vowed to protect the western borders of the country.