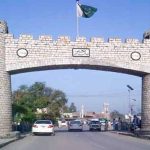 MIRPUR: A passenger van swerved off the road into a ravine in Azad Kashmir, killing five members of a family and injuring nine others on Sunday.
According to details, the incident took place in Panjora area of Azad Kashmir. The dead and injured were moved to Divisional Headquarters Teaching Hospital inMirpur.
Identities of the dead and the injured were yet to be known.