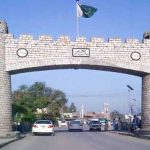 ISLAMABAD: Former prime minister Nawaz Sharif on Monday said despite the current situation, thousands of people cast votes in favour of the Pakistan Muslim League-Nawaz (PML-N) and that is indicative of the times to come.
Speaking to the media outside an accountability court in Islamabad, the former premier responded to questions regarding the by-polls that were held a day earlier and thanked the nation for "making the party victorious".
"We received more votes than we expected," he added. "For the first time in Pakistan's history, we are seeing such a result after a government has been in power for 50 to 60 days."
Stating that despite the current situation, people came out in droves to vote for the PML-N, the former premier said, "Shahid Khaqan Abbasi emerged victor during the by-election and we even nearly won from the Rawalpindi constituency. The other seats were not ours and we still defeated PTI on them."
"These results send out a message and are indicative of the times to come," he said.
Asserting that everyone should pray for the well-being of the country, Nawaz said, "As prime minister and Punjab chief minister, Shehbaz Sharif and I fulfilled our responsibilities with honesty and this can be cross-checked."
"In the last four years, dollar did not exceed Rs104 but we have seen where the rate of dollar has gone in the last 50 days," he added.
"During our time things were not this expensive and people were happy," he further said while adding that basic items were affordable and the poor were satisfied. "It is owing to the prayers of these satisfied citizens that the PML-N is emerging victorious," he continued.
Nawaz regretted, "All of a sudden everything changed. I was imprisoned and cases are being made against me while Shehbaz has been imprisoned and remanded in National Accountability Bureau's custody."
"The world knows how cases are being made against Shehbaz and me and everyone has verified this," he further said.
The former premier also lamented, "The way Saad Rafique is being treated it is as if he will be imprisoned tomorrow if not today."
"Shahid Khaqan Abbasi and I are facing a treason case, but God willing these times will change," he said.
Polling for the by-election was held in 35 constituencies on Sunday, with 11 seats each of the National and Punjab assemblies, nine of Khyber Pakhtunkhwa, and two each of the Sindh and Balochistan up for grabs. Results from the 11 NA constituencies saw the Pakistan Tehreek-e-Insaf (PTI) and the Pakistan Muslim League-Nawaz (PML-N) win four seats apiece.