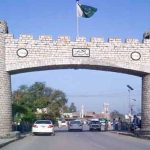 ISLAMABAD: Pakistan Muslim League-Quaid (PML-Q) leader and Punjab Assembly Speaker Pervaiz Elahi on Friday has met Prime Minister (PM) Imran Khan in Islamabad.
During the meeting, the Punjab Assembly speaker briefed the premier about his talks with Jamiat Ulema-e-Islam-Fazl (JUI-F) Chief Maulana Fazlur Rehman on anti-government Azadi March.
He also informed the PM about opposition parties' stance on the protest sit-in in the federal capital, Islamabad.
It is to be mentioned here that the government committee had offered to launch inquiry into the results of General Election 2018 through judicial commission or parliamentary committee.
Earlier, PML-Q leader, after holding fourth meeting with JUI-F chief, said that demand of resignation of elected government was unacceptable and that every other matter except this can be discussed.
Elahi said Azadi March is a big success for Maulana Fazlur Rehman and he has become opposition leader in the eyes of public. He said this is the only sit-in without damages of properties, adding that even traffic was not disrupted during the march.
He said multiple meetings would pave way for better results, adding that all of committee members are in contact with opposition leaders.
Government is ready for legislation, he said.