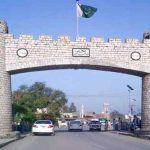 NOWSHERA: Federal Minister for Defence Pervez Khan Khattak has said that Pakistan Democratic Movement chief Maulana Fazlur Rehman, former prime minister Mian Nawaz Sharif and former president Asif Ali Zardari will be behind bars soon.
He was addressing different public gatherings in Meetakhel Kheshgi Bala and Payan where new power feeders were inaugurated. He said that Maulana Fazlur Rehman should tell the nation that from where he got such vast property. Mr Khattak said that Maulana Fazlur Rehman was running a protest movement to save Nawaz Sharif and Asif Ali Zardari but now the siege was getting tighter. He said that protest by opposition had not justification and government would not be blackmailed through such tactics.
The minister said that opposition parties were opposing Senate elections through open ballot as they wanted to buy and sell votes. "In the past, these two major parties wanted elections through open ballot but now they are opposing it," he added. Mr Khattak alleged that all member parties of PDM were doing politics for their own interests. He said that their long march on March 26 to Islamabad would be a flop show because people believed that the alliance was formed to save corruption.