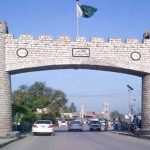 PESHAWAR: Two sisters who were rusticated by a Peshawar medical college for their alleged links with global terrorist outfit Daesh, have approached a local court against their expulsion.
In their writ petition, the two sisters contended that they were expelled from the college for their religious background. "We were abandoned in the middle of nowhere near Murree during a recent college trip," they claimed.
Advocate Saifullah, the counsel for the girls, said that two girls were subjected to mental torture by the college's staff for observing hijab.
Professor Tariq Safi, Principal of the medical college, denied the accusations.
"They have been expelled for disciplinary reasons. Many of our students wear hijab to which we have never raised any objection," he said.
This is the second such incident in two months in which a female medical student has been found involved for having links with Daesh.
Noreen Leghari, a second-year student of Liaquat University of Medical Sciences, Hyderabad, was arrested during a military raid on an IS cell in Lahore. The girl confessed that she was going to be used in a suicide attack at Easter.