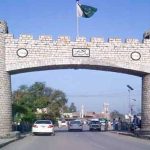 PESHAWAR: On the occasion of third anniversary of the Army Public School (APS) massacre, a somber ceremony was held on Saturday to pay tributes to the martyrs.
The ceremony was held at the APS, which was attended by parents of the martyrs, Peshawar Corps Commander Lt Gen Nazir Ahmad Butt, inspector general Frontier Constabulary (FC) and members of the civil society. Lt Gen Butt laid a floral wreath at the monument of APS victims and prayed for the departed souls. A Quran khwani was also arranged where parents, civilians and armed forces personnel participated.
Tehreek-i-Taliban Pakistan (TTP) militants had stormed the school on Dec 16, 2014, killing at least 144 people ─ most of whom were children.