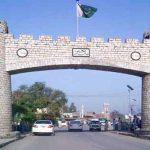 PESHAWAR: A major terror bid was foiled on Sunday when a vehicle loaded with weapons was seized here, police said.
According to police, eight Kalashnikovs, 46 pistols, 24,000 cartridges and 10 magazines were recovered from a vehicle on Kohat road.
Police said that the arms and ammunition were brought from Lucky Marwat.
The driver of the vehicle has been taken into custody, police added.