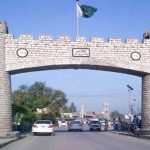 PESHAWAR: An assistant professor at a university in Peshawar was arrested on Tuesday after police recovered drugs and weapons from his vehicle, police sources said.
Police said they had asked Bashir, a professor at Islamia College Peshawar, to pull over at the Regi Model Town check post.
After searching his vehicle, they recovered 20 grams of 'ice' and another 150g of hashish.
Two pistols and magazines were also recovered from Bashir's car, police added.
Bashir was detained at Regi Model Town police station and a First Information Report was registered against him.
Police said investigations are underway to determine what the professor intended to do with the drugs and whether or not the pistols recovered were licensed.