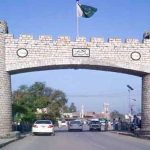 PESHAWAR: Peshawar's Yaseen Khan has won the national bodybuilding championship that was held in Faisalabad and made his province proud.
According to details, more than two hundred bodybuilders participated in the competition and Yaseen Khan created history by winning the title for second time.
The bodybuilder belongs to Peshawar's Bihari Colony and was warmly welcomed by his family, friends and locals when he returned after winning the title.
Yaseen Khan has been in this sport for many years and has also won several titles on provincial as well as national level. Khan now aims to participate in Mr. Olympia physique competition in 2017.
Let it be known that bodybuilding is not only a difficult sport, but is also very expensive. Winning the championship without any support from government is itself a big achievement, but provincial government not even congratulated the bodybuilder over his wonderful accomplishment.