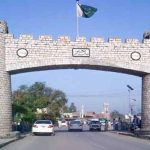 ISLAMABAD: The prices of petroleum products were raised on Friday by Rs 1 each per liter. Petrol and diesel will now be sold at Rs 74 and Rs 83 respectively.
The federal government had sent a summary of recommendations to Oil and Gas Regulatory Authority (OGRA) on Thursday. The new prices have now been enforced from today.
Finance Minister Ishaq Dar told that the government was not raising the prices of Kerosene oil as of yet while only a price hike of Rs 1 each was ordered for petrol and diesel.
After the latest order, petrol will now be sold at Rs 73-74. Also, with the increase of Rs 1 per liter, diesel will be sold at Rs 82-83.
Earlier, it was reported that the prices of petroleum products were likely to increase as government had sent recommendations to OGRA. A Rs13/litre hike was suggested in the price of Kerosene oil, however, the Kerosene oil did not experience any hike this time.