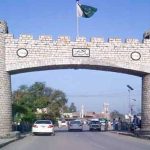 ISLAMABAD—Finance Minister Miftah Ismail has agreed with the International Monetary Fund (IMF) suggestion of curtailing the fuel subsidy of the previous government, as it can't be sustained amid the prevailing economic situation.
The ousted prime minister Imran Khan in February, had announced subsidy in petrol and electricity tariffs, despite soaring global prices. After ousting him in a confidence vote in on April 9, the new government on April 15 rejected the Oil and Gas Regulatory Authority summary of increasing the petrol price by Rs21.50 and diesel by Rs51.30.
"There is never a good time to start anything difficult. We have had actually good discussions with the [International Monetary] Fund. They have talked about removing the subsidy of fuel and I agree with them," Miftah Ismail said during a virtual conversation hosted by the Atlantic Council's South Asia Center and GeoEconomics Center in Washington.
Miftah was accompanied by Pakistan's Ambassador to the US Sardar Masood Khan.
According to business experts, the petrol price could shoot to Rs227 per litre after the ending of government subsidy, which amounts to Rs15-20, the addition of 17% general sales tax, which will add Rs27 to it, and inclusion of petroleum levy. However, the decision to set the petrol price after the ending of the subsidy lies with the government.
Moreover, Brent crude settled down $1.68, or 1.6%, at $106.65 a barrel, Reuters reported. US West Texas Intermediate crude declined $1.72, or 1.7%, to $102.07. Global benchmark Brent hit $139 a barrel last month, its highest price since 2008, but both oil benchmarks declined nearly 5% this week on demand concerns.
It is pertinent to mention here that Finance Minister Miftah Ismail had, couple of days earlier, said that the subsidy allowed for petrol for the months of May and June would cost Rs96 billion, and the government cannot bear this burden.