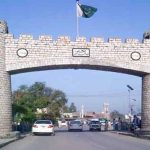 PESHAWAR: The Peshawar High Court (PHC) on Wednesday ordered that former Jamaatul Ahrar (JuA) and Tehreek-i-Taliban Pakistan (TTP) spokesman Ehsanullah Ehsan remain imprisoned while he is undergoing trial.
The court was hearing a petition submitted by the father of an Army Public School (APS) attack victim. In the petition, the victim's father had asked the court to ensure that Ehsan is not pardoned as he had claimed responsibility for the 2014 attack on Peshawar's APS in which at least 144 people, mostly children, were killed.
Ehsan, a TTP spokesperson until 2014, joined the splinter group JuA following a split in the TTP. The army in April 2017 announced his surrender to security forces and released a 'confession video' of Ehsan in which he claimed that terrorist organisations were being "used" by India and Afghanistan.
Fazal Khan, the father of another APS victim, had petitioned the PHC in 2017 against Ehsan's release as he believed the government intended to give clemency to the ex-militant who is reportedly in the custody of security agencies. Subsequently, the PHC in December last year barred the government from releasing Ehsan.
A two-judge bench comprising justices Qaisar Rashid and Ikramullah Khan today stated that if Ehsan had taken responsibility for the TTP-claimed APS attack, "the parents of the victims ─ and not the state ─ hold the right to pardon him".
During the hearing, Deputy Attorney General Musaratullah Khan assured the court that the government does not plan to release Ehsan anyway as he is already undergoing an inquiry.