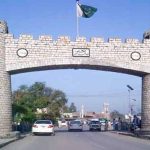 PESHAWAR: A division bench of Peshawar High Court on Thursday referred the Bus Rapid Transit project to the National Accountability Bureau Khyber Pakhtunkhwa for investigation.
The bench comprises Chief Justice of Peshawar High Court Mr. Justice Waqar Ahmed Seth and Justice Mussarat Hilali.
The court directed NAB Khyber Pakhtunkhwa to investigate that why the Bus Rapid Transit was not completed on time and why its expenditure increased from forty-nine point three to sixty-seven point nine billion rupees.
The NAB has also been directed to investigate that why the contract of BRT was awarded to a black listed firm.