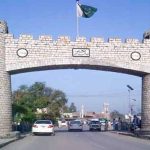 PESHAWAR: The brother of Mashal Khan, who was lynched to death on the pretext of blasphemy, has challenged in Peshawar High Court (PHC) the acquittal of 26 accused requesting they be arrested again.
Aimal Khan, Mashal's brother, has filed an appeal in Peshawar High Court against the decision of anti-terrorism court in Haripur, which awarded on February 7 death sentence to one, life-imprisonment to five, four-year imprisonment to 25 but acquitting the remaining 26 accused.
The petitioner has expressed reservations over the anti-terrorism court's verdict, stating those who have been acquitted can be seen in the video of the incident, when Mashal was being tortured to death.
Therefore, the petitioner has requested the court to arrest the 26 accused and start case against them again.
Mashal was thrashed and shot dead on the campus over allegations of blasphemy in April, after which a 13-member Joint Investigation Team was formed to probe the case.
The JIT formed over the lynching case revealed in its report in June 2017 that members of the Pakhtoon Students Federation, the student wing of the Awami National Party, incited the mob to kill Mashal on the pretext of blasphemy. The report stated the murder was premeditated as the group was threatened by Mashal's activities because he would raise his voice against irregularities at his university.