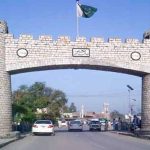 Wajid Hoti
PESHAWAR: A petitioner filed a contempt of court petition in Peshawar High Court (PHC) against the provincial health department for failure to bring uniformity in fees of different tests at private medical laboratories, private clinics and private hospitals in wake of Coronavirus pandemic.
A division bench of the Peshawar High Court headed by Chief Justice Waqar Ahmad Seth ordered Health Care Commission to fix and bring uniformity in rates of all laboratories, clinics, and hospitals.
The petition has been filed against CEO of Health Care Commission, Secretary Khyber Pakhtunkhwa, and Director General Health, asking the court to punish them severely like Islamabad High Court recently sentenced Secretary Health to 6 months imprisonment for not implementing the decision.
The petition said up-to 9600 rupees is charged for COVID-19 tests even while the kits have been donated to Pakistan as a relief package while Shaukat Khanum hospital had been donated kits and funds as well whereas it is charging more than other private sector health facilities providers i.e. laboratories and hospitals.
In the petition it is mentioned that some laboratories/ hospitals are established in Khyber Pakhtunkhwa as trust and government have given them the properties and grants to establish hospitals, however, they instead of working for benefit of the public and health care, have turned into making money institutes.
In the petition, it has been described that private laboratories/ hospitals have been given exemptions from taxes to import health machinery but instead of serving the taxpayers are used for private benefits. It has been added that some of this equipment is donated by NGOs or foreign doners to carry out work for humanity.
It is also explained in petition that decision of this Hon'ble Court is not being complied with because it would have an effect on rates of Shaukat Khanum hospital which is being operated by Prime Minister Imran Khan. If rates are fixed and made uniform, Shaukat Khanum will be made cheap for the public as well, therefore the contemnors have blindfolded themselves to it.
In Writ, it has been emphasized , and saying that this court may order that Health Care commission is not made merely to issue license but also to regulate rates and all other work-related to the regulation of public/ private health sector for benefit of the public.
The petition further says that contemnors are not carrying out their duty and enjoying prerogatives of their jobs even though in wake of the epidemic there should be a proper check and balance on the private hospitals and all under the eyes of the contemnors, so the poor should not be exploited.