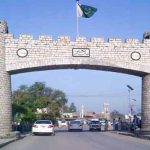 PESHAWAR: The Peshawar High Court (PHC) on Thursday has ordered Khyber Pakhtunkhwa Assembly Speaker Asad Qaiser to administer oath to Pakistan Tehreek-e-Insaf (PTI) provincial minister Baldev Kumar.
Baldev Kumar is facing a trial in an anti-terrorism court (ATC) after he was accused in the murder of Soran Singh – who was also a PTI provincial minister – assassinated in Buner on April 22, 2016.
During today's hearing, Kumar's counsel alleged that the Assembly Speaker was deliberately not taking oath from his client adding that the incumbent government's term would end in a month.
The provincial government's counsel argued that an incomplete quorum in the assembly had been leading to a delay in the oath-taking.
The court after hearing arguments of both the sides directed the assembly speaker Asad Qaiser to administer oath to Kumar.
The court also sought responses from PTI's Arbab Jahandad and others, who created chaos in the assembly when Kumar was taken there to take oath earlier this year.