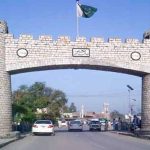 PESHAWAR: The Peshawar High Court (PHC) on Tuesday ordered the Khyber Pakhtunkhwa (KP) government not to close the highway or any other route that could hinder the anti-government Azadi March.
A two-member judge bench presided by PHC Chief Justice Waqar Ahmed Seth and Justice Ahmed Ali heard the petition against the provincial government blocking roads with containers.
Citing reference to the signed agreement between the federal government and the opposition, PHC ordered the KP government not to block any road till Attock.
The agreement states that the government would neither create hurdles for the protesters nor block their food supply.
The opposition, in view of the verdicts of the apex court and the Islamabad High Court, would ensure that the basic rights of public were not affected due to their protest.
According to the agreement, the opposition would ensure that the protesters do not leave the designated venue. Besides, they would also be responsible for their internal security.
The additional advocate general assured that the protest would take place in the ambit of the law and Constitution. However, the government would be liable to take appropriate action against the demonstrators if they damage public or private property or harm anyone.
Upon this, PHC also instructed 'Azadi March' participants to 'remain calm'.
The high court also directed the Pakistan Electronic Media Regulatory Authority (PEMRA) to give equal air time to opposition on television as it does to the government.