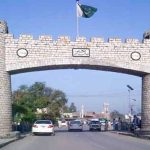 PESHAWAR: Peshawar High Court (PHC) Monday rejected bail application of an accused in Mashal Khan lynching case.
A two-member bench of the high court, headed by Chief Justice, rejected the bail application of the accused Asad Zia, who was allegedly involved in lynching of the student of Wali Khan University Mardan, Mashal Khan.
Barrister Amir Khan Chamkani told the court that Asad Zia was present at the time of the killing of Mashal Khan, and could be seen in different videos. He said that the court had already rejected the bail applications of two accomplices of the accused.
The court rejected the bail application of the accused, who was employee of the university and working as assistant at the provost office.