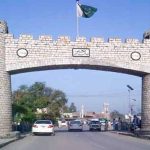 PESHAWAR: The Peshawar High Court (PHC) on Tuesday suspended the death sentence of a convict awarded by a military court.
A two-member bench of the high court, headed by Chief Justice Waqar Ahmed Seth, stayed execution of convict Bashir Ahmed of Swat, who was represented by lawyer Mia Tajamal.
The defence counsel informed the court that his client was not given right to defence. He rejected all the charges against his client.
The court suspended the death sentence to Bashir Ahmed and adjourned the hearing till March 6. The convict was accused of attacks on security forces in Swat.