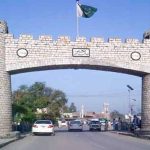 PESHAWAR: A Peshawar High Court (|PHC) Friday issued a stay order suspending the execution of a man convicted by a military court and sought reply from Ministry of Defence.
Tajamal Shah, Counsel for the convict Rehmat Shah, told the court that his client was sentenced to death on December 31 last year. He claimed that his client was missing for the last ten years. He said that the family of the convict came to know that he was in the custody of security forces after his conviction.
The counsel said that his client was convicted for attacks on security forces in Swat. However, he added, his client was not given right to defence.
The court suspended the death sentence and issued notice to ministry of defence.