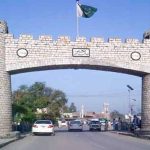 PESHAWAR: The Peshawar High Court (PHC) on Tuesday suspended a notification for the increase in compressed natural gas (CNG) price during a hearing of a petition submitted in the court against the hike.
According to the petitioner's lawyer Advocate Yasir Khattak, the federal government had increased CNG price on October 4.
He added that the federal government had issued a notice for the increase in gas price without consultation with Oil and Gas Regulatory Authority (Ogra).
On Oct 6, CNG price crossed the Rs100 per kg mark for the first time in the country's history after the government hiked it by 40 per cent from Rs700 MMBTU to Rs980 per MMBTU.
The two-member of the PHC, comprising Justice Roohul Amin Khan Chamkani and Justice Ishtiaq Ibrahim, today issued notices to the federal government, Ogra Chairperson Uzma Adil Khan and Sui Northern Gas Pipelines Limited (SNGPL) Managing Director Amjad Latif.
The court summoned a reply from the involved parties in the next hearing.